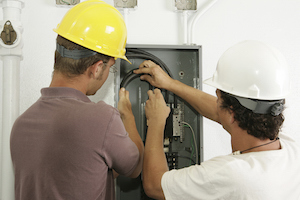 Most people have experienced a blown fuse, forcing them to explore their electrical panel to locate the problem and get their power back up and running. But, for many, this is the extent of their experience with electrical panels.
Until there's a more serious problem.
You may come across a point in your life as a property owner that you nee to upgrade your electrical panel to ensure the safety and proper functioning of your home electrical system.
What is an Electrical Panel?
Your electrical panel acts as a distributor of your home's power. The primary source of your home's electricity is fed into the main panel, where it is then broken down into smaller branches and fed throughout the home.
Do I Need an Electric Panel Upgrade?
If you experience frequent power outages, or you're expanding or renovating your home, you may need to upgrade your electrical panel in order to supply adequate power to your home.
What Options Do I Have for My Electrical Panel?
Upgrading your electrical panel could go a number of ways. You may simply need to add additional circuit breakers into an existing box, add a subpanel for expansion, or replace your old fuse box entirely. An experienced electrician can help you determine your best option.
What are the Signs that I Need to Upgrade My Electrical Panel?
The following are clear indicators that you need to upgrade your electrical panel:
Flickering lights
Panel is overheating
Frequent blown fuses
Strange sounds emitted from panel
If you are experiencing any of these problems, there may an imminent risk of fire. Contact a certified electrician immediately to investigate and repair the issue.
For Metro Detroit's premier electrical service providers, contact the experts at Mastercraft Heating, Cooling, and Plumbing today for a free estimate on your electrical panel upgrade. We're available 24/7 to take your call!