Top-Rate AC Maintenance in Southeast Michigan
Stay comfortable in any season with our expert AC maintenance. We offer installation, repair, and ongoing maintenance.
Is your AC system ready for summer? Let Mastercraft help you beat the heat with our expert AC maintenance services in Southeast Michigan.
Regular AC maintenance is key to keeping your system running smoothly and efficiently all season long. At Mastercraft, our skilled technicians provide a comprehensive AC maintenance service to ensure that your system is in top condition, saving you money on energy bills and extending the life of your AC unit. From cleaning and lubricating parts to checking refrigerant levels, our team has the expertise to keep your system running smoothly and efficiently.
Don't wait until it's too late - contact Mastercraft today to schedule your AC maintenance appointment and experience the peace of mind that comes with a properly functioning AC system. With our fast and friendly service, you can enjoy a cool and comfortable home all summer long.
Call or fill out our online form to schedule AC maintenance in Southeast Michigan.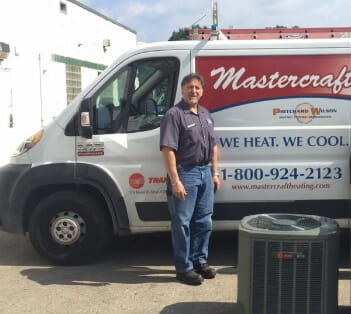 Call Today to Schedule Service
---
Call today or fill out our online form to schedule certified, dependable AC maintenance without the hassle.
(800) 924-2123
Our AC Maintenance Extends the Life of Your Air Conditioner
Annual AC maintenance can seem like a hassle. However, an even worse hassle is expensive repairs or a premature system replacement. As a homeowner, you directly benefit from routine air conditioner maintenance in the following ways:
Increased energy efficiency and lowers energy bills
Extended lifespan of your AC unit
Reduced likelihood of breakdowns and costly repairs
Improved indoor air quality by removing dirt and debris buildup
Enhanced cooling performance and effectiveness
Secured manufacturer's warranty on your AC unit
With regularly scheduled maintenance, our technicians identify and address potential issues before they become major problems.