Commercial HVAC Southeast Michigan
Certified HVAC technicians
Welcome to Mastercraft Heating, Cooling, Plumbing, & Electrical, your trusted partner for top-notch commercial HVAC and plumbing services in Southeast Michigan. With years of experience and highly skilled professionals, we are committed to providing reliable, efficient, full service, professional technicians, and comprehensive solutions for all your commercial HVAC, plumbing, and electrical service needs.
Our Services:
Commercial Heating Services:
At Mastercraft, we understand the importance of a well-functioning heating system and equipment to keep your commercial and industrial facilities space comfortable during the cold Michigan winters. Our heating services cover installation, repair, and maintenance of various heating systems and equipment, including furnaces, boilers, heat pumps, and radiant heating. We are equipped to handle projects for companies of all sizes, from various companies with small offices to large commercial buildings.
Commercial Cooling Services:
When the summer heat sets in, a properly functioning cooling and air conditioning part and system is essential to maintain a comfortable working environment for your employees and customers. Our commercial cooling and air and equipment and services include installation and repair of air conditioning systems, boilers, chillers, and ventilation systems. Trust us to keep your commercial space cool and energy-efficient.
Commercial Indoor Air Quality Services:
Indoor air quality directly impacts the health and job productivity of customers and your occupants. Our team specializes in improving indoor air quality through the professional installation and maintenance of air purifiers, ventilation systems installation and repair, and humidity control solutions. Breathe easy knowing that your commercial space has clean and healthy air.
Commercial Plumbing Services:
From leaky faucets to complex plumbing installations and repair, our skilled plumbers have the expertise to handle all your commercial plumbing install, service and repair needs. We offer our customers a wide range of services, including plumbing system repairs, water heater installations, drain cleaning, and backflow prevention. Trust us to ensure your plumbing systems are running smoothly.
Commercial Electrical Services:
Electrical issues can disrupt your business operations and pose safety risks. Our certified electricians are here to address all your commercial electrical requirements. Whether you need electrical repairs, lighting installations, panel install and upgrades, part installation or complete electrical system design and installation, we've got you covered.
Maintenance Plan:
With regular check-ups and tune-ups, our plan ensures costs savings, extends the lifespan of your systems, and enhances energy efficiency. As a member, you'll receive priority service and maintain a positive reputation with clients and employees alike. Invest in your business's future by proactively maintaining your systems with Mastercraft's trusted Maintenance Plan.
Call or fill out our online form to schedule commercial HVAC services in Southeast Michigan.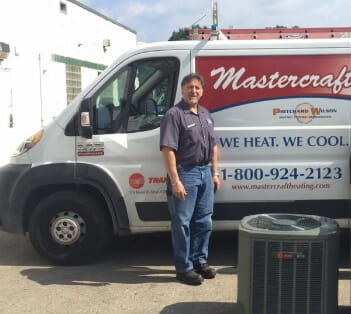 Call Today to Schedule Service
---
Call today or fill out our online form to schedule certified, dependable furnace installation without the hassle.
(800) 924-2123
Why Choose Mastercraft:
Experienced Professionals: Our team consists of fully licensed, insured, highly trained and experienced technicians who excel in their respective fields.
Comprehensive Solutions: We offer a wide range of services to cater to all your commercial HVAC, plumbing, and electrical needs under one roof.
Customer Satisfaction: We prioritize customer hapiness and work diligently to exceed your expectations.
Timely Service: We understand the importance of time in the business world and strive to complete projects promptly and efficiently.
Competitive Pricing: Our services are competitively priced to ensure you get the best value for your investment.
Contact Us:
Mastercraft Heating, Cooling, Plumbing, & Electrical is a reliable and professional commercial and industrial HVAC, plumbing, and electrical service and installation company serving both business and commercial clients in Southeast Michigan. Contact us today to discuss your requirements or schedule a service appointment. Our team is ready to serve you and keep your commercial or industrial space comfortable and efficient throughout the year.