Dependable AC Installation in Southeast Michigan
Get a brand new, high-efficiency AC installed by Mastercraft certified HVAC technicians.
Are you tired of sweating through the summer months? Mastercraft can help. We offer reliable and efficient AC installation services to keep your home cool and comfortable all summer in Southeast Michigan.
Our team of expert technicians has the knowledge and experience to install any AC system quickly and efficiently, ensuring your home stays comfortable even on the hottest days. We offer a range of top-quality AC systems to fit any budget, and our flexible scheduling options make it easy to find an appointment that works for you.
At Mastercraft, we understand the importance of having a properly functioning AC system in your home or business. We offer fast and efficient AC installation services to keep your system running smoothly
Call or fill out our online form to schedule AC installation in Southeast Michigan.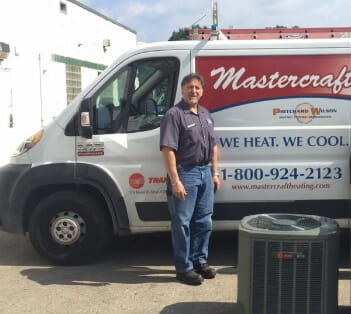 Call Today to Schedule Service
---
Call today or fill out our online form to schedule certified, dependable AC installation without the hassle.
(800) 924-2123
AC Installation Made Easy
We've streamlined our AC installation process to make it as easy and stress-free as possible.
After assessing your home's cooling needs, we recommend the ideal AC system.
We offer a detailed cost estimate and work with you to schedule a convenient installation time.
On installation day, we arrive fully equipped with all the necessary tools and materials.
We remove your old AC system and install the new one with precision and attention to detail.
All connections are securely installed and compliant with safety regulations to ensure efficiency.
We thoroughly test the AC system to ensure optimal performance and effective cooling.
After installation, we'll take the time to answer any questions you may have and provide you with tips on how to maintain your new AC for optimal performance.