Fast, Reliable Furnace Repair in Southeast Michigan
Consistent quality, affordable rates, and extensive industry experience separate us from the competition.
Whether it's a minor issue like a clogged air filter or a major problem like a malfunctioning thermostat, the experts at Mastercraft have the knowledge and experience to diagnose and fix any furnace problem quickly and efficiently. We understand the importance of a functioning furnace to your comfort and peace of mind, so we offer 24/7 emergency furnace repair services.
At Mastercraft, we believe prevention is better than cure, so we offer regular furnace maintenance services to ensure that your furnace is running smoothly and efficiently. Their team of skilled technicians uses the latest tools and technology to provide affordable and effective, affordable and effective furnace repair.
If you need furnace repair services in southeast Michigan, look no further than Mastercraft. With their commitment to customer satisfaction, you can be sure that your furnace is in good hands. Whether you need a furnace repair, maintenance, or replacement, we have you covered.
Call or fill out our online form to schedule furnace repair in Southeast Michigan.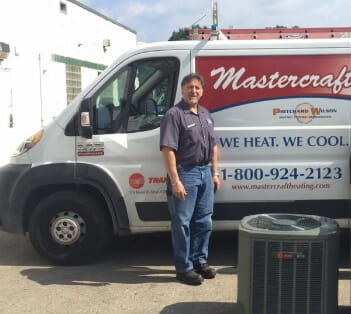 Call Today to Schedule Service
---
Call today or fill out our online form to schedule certified, dependable furnace repair without the hassle.
(800) 924-2123
Furnace Repair Made Easy
We proudly provide high-end HVAC services for residents in the Dearborn Heights, Shelby Township, West Bloomfield, Commerce, and Birmingham, Michigan, areas. We offer emergency service 24 hours a day, seven days a week. In addition, we offer flexible appointment windows and free estimates for your project. Our goal is always to your satisfaction.
Our HVAC technicians will:
Help you choose the perfect furnace for your home that fits your needs and budget
Work with you to choose an energy-efficient option that will reduce utility bills and minimize your carbon footprint
Remove and dispose of your old furnace as well as reconnect service when you upgrade
Repair your existing unit or provide ongoing maintenance to assure the life of the furnace