Top-Rate Heat Pump Services in Southeast Michigan
Stay comfortable in any season with our expert heat pump services. We offer installation, repair, and ongoing maintenance.
At Mastercraft, we understand how important it is to have a properly functioning heat pump system in your home or business. We offer fast and efficient heat pump services in Southeast Michigan to keep your system running smoothly all year round. Our technicians are highly trained and equipped with the latest tools and technology to diagnose and fix any heat pump problem quickly and effectively.
From installing a new heat pump to repairing and maintaining your existing system, we have the knowledge and experience to get the job done right. We offer reliable and affordable heat pump services that are tailored to your specific needs, ensuring that you get the best possible solution for your heating and cooling needs.
Call or fill out our online form to schedule heat pump service in Southeast Michigan.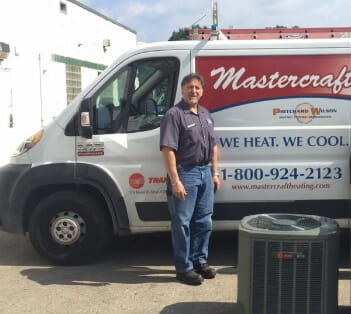 Call Today to Schedule Service
---
Call today or fill out our online form to schedule certified, dependable heat pump service without the hassle.
(800) 924-2123
Heat Pump Service We Offer
We offer a range of top-quality heat pump services, including:
Heat pump installation: Our expert technicians can help you choose the right heat pump for your home and install it quickly and efficiently.
Heat pump repair: If your heat pump is not working as it should, we can diagnose and repair any problem quickly and effectively.
Heat pump maintenance: To keep your heat pump running smoothly and efficiently, we offer regular maintenance services to ensure that your system is operating at its best.
With our expert installation services, you can enjoy reliable and efficient heating and cooling all year round. Our repair services ensure that any heat pump problems are diagnosed and fixed quickly, helping to avoid costly breakdowns.