Fast, Reliable AC Repair in Southeast Michigan
Consistent quality, affordable rates, and extensive industry experience separate us from the competition.
Is your AC system struggling to keep up with the summer heat? Don't sweat it - let Mastercraft handle all your AC repair needs in Southeast Michigan.
Our skilled technicians have the expertise to diagnose and repair any AC problem quickly and efficiently, from refrigerant leaks to compressor failures and more. With our fast and friendly service, you can be sure that your home will stay cool and comfortable all summer long. Plus, with our competitive pricing and commitment to customer satisfaction, you can trust that you're getting the best value for your money.
Don't suffer through the heat - contact Mastercraft today for fast and reliable AC repair services in Southeast Michigan. We'll have your AC system up and running again in no time, so you can enjoy a cool and comfortable home all summer long.
Call or fill out our online form to schedule AC Repair in Southeast Michigan.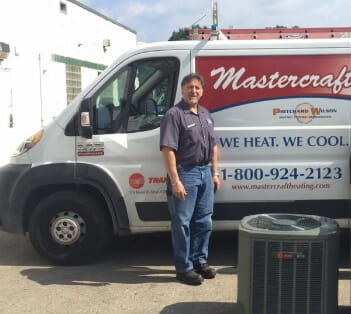 Call Today to Schedule Service
---
Call today or fill out our online form to schedule certified, dependable AC repair without the hassle.
(800) 924-2123
AC Repair Made Easy
We deliver top-notch HVAC services to homeowners in Dearborn Heights, Shelby Township, West Bloomfield, Commerce, and Birmingham, Michigan, and the surrounding areas.
Our HVAC technicians will:
Help you choose the perfect AC for your home that fits your needs and budget
Work with you to choose an energy-efficient option that will reduce utility bills and minimize your carbon footprint
Remove and dispose of your old AC as well as reconnect service when you upgrade
Repair your existing unit or provide ongoing maintenance to assure the life of the AC
Our services are available 24/7 for emergency situations, and we offer flexible appointment scheduling to fit your busy lifestyle. Additionally, we provide free project estimates to help you make informed decisions. At Mastercraft, we are committed to ensuring your complete satisfaction with every job we undertake.