Indoor Air Quality Services in Southeast Michigan
Purify the air in your home with our premier indoor air quality services, including air duct cleaning and air purification solutions.
Looking for a powerful way to improve your indoor air quality? Look no further than Mastercraft. We offer indoor air quality services in Southeast Michigan. to help you breathe cleaner air in your home. We use advanced equipment and top-rated products to remove dust, dirt, and other contaminants from your air ducts. You benefit from improved HVAC efficiency and harmful particle reduction.
We also offer air purification services to further improve your indoor air quality. Our experts can help you choose the right air purifier for your space, ensuring that you and your family or employees are breathing the cleanest air possible. Trust Mastercraft for all your indoor air quality needs.
Call or fill out our online form to schedule any of our indoor air quality services in Southeast Michigan.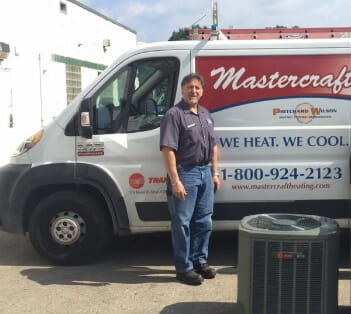 Call Today to Schedule Service
---
Call today or fill out our online form to schedule indoor air quality service without the hassle.
(800) 924-2123
Breathe Cleaner Air. Improve Your Lifestyle
Dirty air affects nearly every area of your home life. Pollutants lead to health issues, poor HVAC and appliance performance, and an overall dirtier environment. Our indoor air quality solutions provide a number of benefits.
Clean air reduces the number of pollutants that cause allergies and other health issues.
Air duct cleaning reduces HVAC energy consumption and lower utility bills.
Your HVAC system doesn't have to work as hard to circulate air throughout your home or business.
We can extend the lifespan of your HVAC system.
Air duct cleaning and purification eliminates bad odors.
Breathing clean air gives you peace of mind and improves your overall quality of life.
Our indoor air quality services can help you create a healthier, more comfortable environment for yourself, your family, or your employees.