Dependable Furnace Installation in Southeast Michigan
Get a brand new, high-efficiency furnace installed by Mastercraft certified HVAC technicians.
Looking for a reliable furnace installation service in Southeast Michigan? Count on Mastercraft! Our team of experts provides top-notch furnace installation service that is both efficient and affordable. Whether you're in need of a new furnace for your home or business, we've got you covered.
We offer a wide variety of furnace installation options to suit every need and budget. Our team of skilled technicians will work with you to find the best solution for your specific needs, ensuring that you get the most out of your investment.
What sets Mastercraft apart from other furnace installation services is our commitment to quality and customer satisfaction. We take pride in our work and always strive to exceed our clients' expectations. With years of experience under our belt, we have the knowledge and expertise to handle any furnace installation project with ease.
Call or fill out our online form to schedule furnace installation in Southeast Michigan.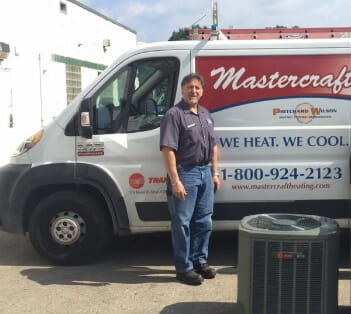 Call Today to Schedule Service
---
Call today or fill out our online form to schedule certified, dependable furnace installation without the hassle.
(800) 924-2123
Furnace Installation Made Easy
We've streamlined our furnace installation process to make it as easy and stress-free as possible.
Our technicians assess your home's heating needs and recommend the best furnace for your specific situation.
We provide a detailed cost estimate and schedule a convenient installation time.
On the day of installation, we arrive on time and fully equipped with all the necessary tools and materials.
We carefully remove your old furnace and install the new one.
We ensure that all connections are secure and in compliance with safety regulations.
Finally, we test the furnace to make sure it's running efficiently and effectively.
After installation, we'll take the time to answer any questions you may have and provide you with tips on how to maintain your new furnace for optimal performance.