Thorough Air Duct Cleaning in Southeast Michigan
Our certified technicians utilize advanced technology to identify and remove dirt and dust from your ductwork, resulting in healthier air.
Are you concerned about the air quality in your home? Dirty air ducts can circulate dust, allergens, and other contaminants throughout your home, contributing to poor air quality and potentially harmful health effects.
At Mastercraft, we provide comprehensive air duct cleaning services to residents in Southeast Michigan, using state-of-the-art equipment and techniques to remove debris and contaminants from your ductwork.
Our trained technicians will thoroughly inspect and clean your air ducts, improving airflow and promoting healthier indoor air quality. We also offer flexible scheduling to fit your busy lifestyle and competitive pricing to provide you with the best value for your investment.
Call or fill out our online form to schedule Air Duct Cleaning in Southeast Michigan.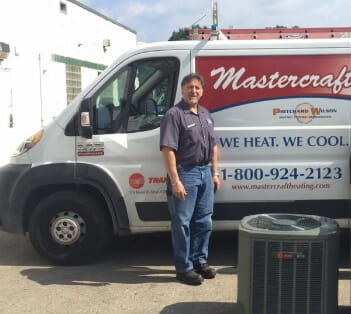 Call Today to Schedule Service
---
Call today or fill out our online form to schedule certified, dependable air duct cleaning without the hassle.
(800) 924-2123
Regular Air Duct Cleaning Can Transform Your Home
Although the air ducts are hidden, they can significantly impact your health, your home's cleanliness, and your HVAC's performance. There are several benefits of professional air duct cleaning:
Air duct cleaning improves indoor air quality by removing contaminants and allergens.
Regular air duct cleaning prolongs the life of your HVAC system by reducing wear and tear.
Air duct cleaning reduces unpleasant odors in your home by removing dust and debris buildup.
Scheduling annual air duct cleaning helps you maintain a healthy living environment.
Mastercraft technicians perform a comprehensive air duct inspection to identify what's in the air ducts and remove it. Our cleaning services help you improve your overall home life.