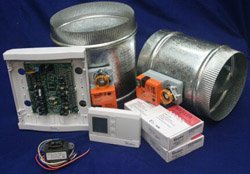 The following is an all too common scenario: The temperature in your living room is too warm, but if you walk into your basement, it is too cold. Does it feel like you must constantly fiddle with your thermostat to get the right temperature? Let's be honest, the only location in your home where the temperature matches the thermostat is at the location of the thermostat itself. Each person and room of your home is going to have different temperature needs, so why would you expect to control all of your home's heating needs with a single thermostat?
The energy efficient heating solution you are searching for is the Mastercraft Zoned Comfort Control System. This unique system is comprised of multiple thermostats, which are all connected electronically to a single control panel. The central control unit enforces a variety of different dampers within your home's heating and cooling system. The conditioned air can then be distributed to your home's different rooms as needed. The average homeowner saves 20% to 40% on their home's annual energy costs simply by installing this system.
You might be thinking, "Ok, this energy efficient heating system sounds cool and all, but it has got to be so expensive." In reality, it's not that complicated. Most homeowners won't even be required to replace their furnace. If you're interested in learning more about what this system can do for you, it's time to contact a professional heating contractor. It's time to call Mastercraft Heating, Cooling, & Plumbing.
With hundreds of years of combined experience, Mastercraft possesses the expertise needed to service your business or home. As a family owned business, our mission is to provide unsurpassed excellence in all areas of air conditioning, heating, duct cleaning, and electrical services to our clients. If you're in need of a more energy efficient heating system, we provide a wide range of EnergyStar certified heating solutions. Contact us today to request an appointment!