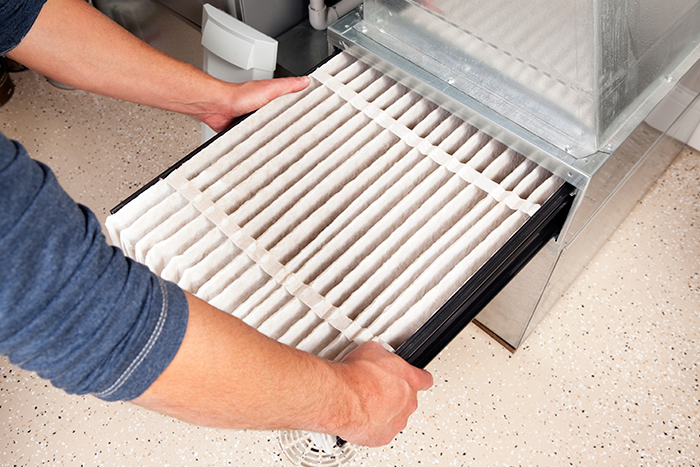 A comprehensive furnace tune-up can involve 20 or more items to be checked, and requires a careful understanding of all of a furnace's systems. That's why it's a task best left to a professional heating contractor. A homeowner can clean or replace filters, or vacuum out some compartments, but should never attempt any complicated repairs. Below are some of the main things you can expect during a tune-up.
A technician will start by checking the outside of the furnace to make sure nothing is loose, and that there is no rust or corrosion. They'll also listen for any sounds that could indicate a more serious problem inside. At the same time, they'll look over the flue and exhaust system to identify possible leaks, too. If you have a gas furnace, another important step is for the gas supply line to be inspected.
The technician will also let the furnace run for between 10-15 minutes and then check the carbon monoxide levels around the unit. If any is detected, they'll locate the source.
Next, they'll open the furnace and check that the pilot light, igniter and thermocouple are functioning properly. In the case of the igniter, this can involve using an ohmmeter to measure the resistance. If it's not within acceptable limits, the igniter needs to be replaced. All electrical connectors and wiring will be thoroughly inspected, as well. The gas supply to the furnace will, or course, be shut off while they do these things.
It's imperative for the burners and heat exchanger to be carefully inspected. If the burners aren't igniting in the proper sequence they either need to be cleaned, or are out of alignment. Any rust, corrosion, or cracks in the heat exchanger are big problems and will require service.
Mastercraft Heating, Cooling, & Plumbing is family owned, and Better Business Bureau approved. We can provide service for homes and businesses. Our formula for success is that when our customers win, we win! Contact us to schedule a tune-up today!