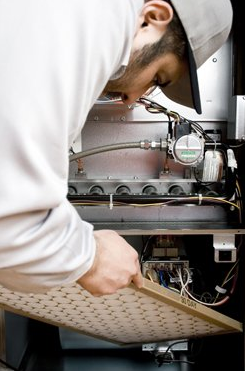 Sometimes homeowners neglect their furnace because they figure no news is good news when it comes to the furnace. Unfortunately, this is flawed logic. Furnaces typically will show very few signs of failure or fatigue until they break, but licensed heating and cooling technicians can frequently predict the future with a thorough examination of the furnace. Don't be fooled into thinking that your furnace is fine as long as warm air comes out of the vents. Problems could be looming that could quickly find you paying for repairing a broken furnace.
Fortunately, heating and cooling technicians can identify parts of a furnace that show signs of age long before the furnace leaves you out in the cold. By assessing the components of the furnace and taking corrective action, technicians can frequently make small repairs and negate a major repair down the road for the homeowner, resulting in large savings.
Most homeowners are shocked when they learn that many furnace manufacturers require annual tune-ups by licensed technicians in order for the warranty to remain valid. In these cases, it is extremely important to follow the manufacturer's guidelines to avoid a major expense in the event of furnace failure within the warranty period.
Your furnace is one of the most expensive aspects of your home. Furnaces typically last 15 to 20 years, but with a history of annual tune-ups, homeowners can expect their furnace to outlast the rest. In this day and age, people are increasingly aware of their budgets, and it can be difficult for homeowners to come up with several thousands of dollars for a new furnace. However, many homeowners can afford a yearly tune-up, which can amount to significant savings over time.
Don't gamble on your furnace and your wallet. Contact the expert technicians at Mastercraft Heating & Cooling today and schedule a tune-up. Whether you had your furnace serviced last fall or can't remember the last time it was tuned-up, contact Mastercraft Heating & Cooling today!