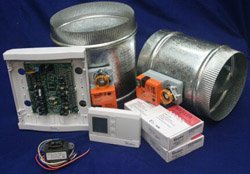 Updated December 12 2022
For many homeowners, effectively cooling their home is a constant struggle. One room might be unbearably warm, while another feels too chilly. In order to combat this problem, many people adjust the thermostat, only find that it just leads to further temperature imbalances. If this experience is something you battle on a daily basis, then your home is the perfect candidate for a zone temperature control system.
While the term "zone temperature control" might seem at first to be overly complicated, it's actually a very simple method to understand and implement. Essentially, zone temperature control works by using more than one thermostat throughout the home, with each thermostat dictating the temperature of a specified area.
With zone temperature control, the system of thermostats feed into a control panel that operates a set of dampers that segment the pathways within your forced air heating and cooling system. By segmenting the household system with dampers, you can not only enjoy your ideal level of comfort in every area of your home, but you can also save money by modifying the thermostat in zones you seldom use.
Additionally, unlike many of today's temperature solution products, a zone temperature control system is not overly complicated to operate, and it's relatively inexpensive, especially when you consider the amount of money you'll save with reduced energy consumption each month.
If you're tired of sweating it out in one room of your house and having to bundle up underneath a pile of blankets in another, then a zone temperature control system may be the perfect solution you've been waiting for. If you're interested in experiencing the benefits of one of these systems, look no further than Mastercraft Heating, Cooling, & Plumbing for affordable prices on equipment and installation, as well as expert knowledge and friendly customer support. Contact us today to schedule an estimate!