Zoned Temperature Control Installation
---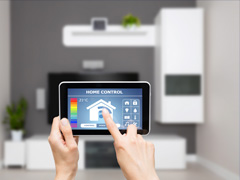 Have you ever noticed that one room is too hot while another is too cold?
To get the right temperature, are you constantly adjusting your thermostat? While you fix the problem in one room, you create a problem in another.
Do you turn on all the lights in your entire house with one switch? That would be silly. Of course, you only turn the lights on in the room you need them. So why doesn't your heating system work the same way?
A Zoned Comfort Control system from Mastercraft will provide you with the flexibility to maximize your heating comfort while minimizing your energy bills. This energy saving solution will not only improve your home comfort, but it will also save you quite a bit of money.
The only place in your home where the temperature matches the thermostat is at the thermostat. Different areas of your house and family members have different temperature needs. What may be cool to one person may be too warm to another. Heat rises up, leaving the main floor cool and second floor bedrooms too hot. Cool air settles leaving the basement too cold. Windows soak up the sun making certain rooms uncomfortably hot or cold. Winds can quickly cool certain rooms.
---
What is zoned comfort control?
Zoned Comfort Control is a system of more than one thermostat, electrically connected to a control panel. This control panel operates a number of dampers in your forced air heating/cooling system. Conditioned air is then distributed to various rooms as needed.
Simply stated, you have more than one thermostat. What a crazy idea! A thermostat on each floor. Or an extra thermostat in the Master Suite. Now you can set your furnace or air conditioner to deliver the correct amount of conditioned air to the room or floor that needs it.
Sounds complicated and expensive, doesn't it?
A separate furnace or duct work for every room! It's really not that complicated. In most cases, you don't even need to change your furnace. A Mastercraft technician can design a system that fits your home needs. A few dampeners, new thermostats and a control panel, and you'll be up and running. Improved comfort, reduced energy bills… Almost sounds too good to be true. Give us a call today to set up a free estimate.