Recommended Metro-Detroit HVAC Maintenance and Repair
---
Trust the Experts to Ensure Your Heating and Cooling System Runs Efficiently and Lasts a Long Time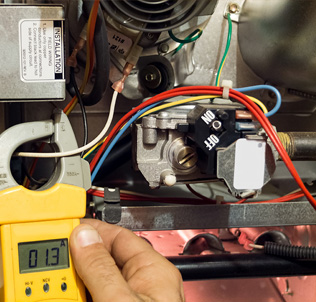 There are some things you can do to maintain your home HVAC system. Change your filter every month to ensure optimal airflow and reduce the number of allergens and dust in the air. Remove any debris, dust, or furniture from vents or units – this will keep your intake unobstructed. Monitor the air temperature vs what your thermostat reads. (If your house seems colder, you may need professional help.)
After you have taken care of the routine tasks to keep up your home heating and cooling systems, be sure to call in a trusted, local heating and cooling company to take care of the more technical maintenance needs. Mastercraft technicians have seen many neglected home HVAC systems. Without annual tune-ups, or regular cleaning and filter changing, you can find yourself shelling out a lot of money for repairs and replacements that could easily have been avoided. Let us help you avoid the high costs of unnecessary repairs and higher electric and gas bills. Request a furnace or AC tune-up today.
The Benefits of Furnace and AC Maintenance
Safer Operation – An unmaintained system could present health hazards to your family. Carbon monoxide leaks and explosions due to gas backups are just two examples.
Lower Energy Bills – A system that has not been inspected recently could be running inefficiently thus wasting energy.
Fewer Breakdowns and Repairs – When clean and tuned-up, heating and cooling systems can end up having a long life. However, with such a complex system, one malfunctioning part or section can lead the whole system to ruin. Fixing the little problems can prevent large, system-wide breakdowns keeping money in your pocket.
Choose the Local HVAC Company with Experience You Can Trust
When was the last time your home had an HVAC inspection? Putting off on-going tasks is so easy, but regular heating and cooling inspections can end up saving you headaches and money in the future. Mastercraft has been a leader in the heating and cooling industry for more than 60 years. Over this time, we continue you explore ways to meet the needs of our customers better.
Professional HVAC Maintenance Checks:
Check the Thermostat – The thermostat can become misconfigured easily. Recalibrating your thermostat can correct the accuracy of its reporting.
Inspect Condensation Drain – Cracks or leaks in the condensation drain can lead to freezing pipes. Technicians will be on the lookout for any drips or breaches in the system.
Inspect and Clean the Blower – The blower has an enormous impact on the airflow throughout your home. Checks and cleaning of this can improve the efficiency of your system by over 10%.
Tighten Wiring – Mismatched or frayed wires can be dangerous. A professional will inspect and tighten all wires ensuring your safety.
Check Refrigerant – A leak in the cooling system could cause problems in the cooling unit. The technician will inspect the unit for proper levels.
When Mastercraft is Your Choice, You Get a Win, Win, Win Situation!
We Deliver These Wins by Offering:
24/7 Emergency Service
Excellent Prices
Licensed, Bonded, and Insured
10-year Parts Warranty!
Clean Cut, Uniformed Technicians
On-Time Appointments
Our experienced, certified technicians are ready to help with your Maintenance needs today. Don't forget; we give FREE estimates on new equipment! Reach out to us today for more information by calling (800) 924-2123.