Professional Duct Cleaning in Redford, MI
---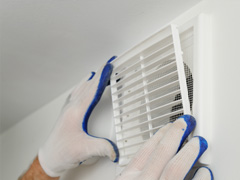 A Maze of Heating and Air Conditioning Ducts Run Inside the Walls and Floors of Your Home
As the supply ducts blow air into the rooms, return ducts inhale airborne dust and suck it back into the blower.
Add moisture to this mixture and you have a breeding ground for allergy-inducing molds, mites and bacteria.
---
Dirty Air Ducts are a Health Problem
Many filters commonly used today can't keep dust and debris from streaming into the air. Over time sizable accumulations can form; think "dust bunnies" - only bigger. To find out if your ducts need cleaning, check behind one of your registers and take a look. If you see dust accumulation, it is time for a duct cleaning. We can also change your filters to HEPA filters to help enhance air quality and reduce household dust.
---
HEPA Filters and Clean Air Ducts Reduce Allergens and Dust
If you're investing in a new furnace or air conditioning unit, it is a good idea to get your ducts cleaned at this time. Clean HVAC systems perform more efficiently which may decrease energy costs and last longer. This reduces the need for costly repairs or replacements. So improve your air quality, reduce allergy suffering, increase the performance of your HVAC equipment and save money!